Period
Apartment "Flatschkofel"
"Hochalpenkopf"
Apartment "Maurerkopf"
"Plan de Corones"
2 people
3 people
2 people
4 people
26.08. – 22.09.2023
23.09. – 24.11.2023
70,00 €
65,00 €
80,00 €
75,00 €
85,00 €
75,00 €
105,00 €
95,00 €
Low season
25.11. – 22.12.2023
16.03. – 28.06.2024
21.09. – 29.11.2024
68,00 €
78,00 €
78,00 €
98,00 €
Between season
07.01. – 27.01.2024
29.06. – 26.07.2024
31.08. – 20.09.2024
73,00 €
83,00 €
88,00 €
108,00 €
High season
23.12.23 – 06.01.2024
28.01. – 15.03.2024
27.07. – 30.08.2024
78,00 €
88,00 €
98,00 €
118,00 €
The indicated prices are for 4 days per apartment and day. For stays during less than 3 nights we add 10,00 € a day and per person
For every additional person staying in the apartment we charge 10 € per night.
Children up to 3 years of age stay free.
You are welcome to borrow the needed baby equipment (crib, highchair).
Inclusive services
The total amount of your booked stay contains:
linen and towels
fully furnished kitchen including dish towels
Wi-Fi, SAT-TV, Radio
current and heating
as well as all charges and taxes, except the tourist tax
NEW from May 2023
The Bruneck Card combines two offers:
all benefits of the Holidaypass Bruneck
unlimited use of all public transport throughout South Tyrol
participation in the weekly programme of Bruneck Kronplatz Tourism
discounts at various leisure facilities
& admission to over 80 museums and exhibitions throughout South Tyrol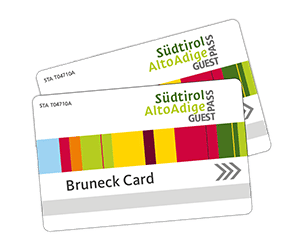 Since July 2014 a tourist tax has been introduced in the region of South Tyrol. It amounts to 2,50 € (from 01.01.24) in our township per person (aged over 14) and day. We kindly ask you to pay the tax at the end of your stay on-site.
Additional services upon surcharge:
Washing machine 5 € (for every wash)
Clothes dryer 5 € (for every program)
Fresh bread service
Milk & eggs

Pets
Out of respect for our other guests, pets are not allowed in our apartments!
Booking conditions
Booking will be treated as binding as soon as we receive the deposit of 150 € per week and apartment. We only accept booking in writing.
Please transfer the deposit to the following bank account and use your name as subject for the transaction:
Bank data:
Name of the bank: Banco Posta
Name of account holder: Mutschlechner Siegfried
IBAN: IT 45 E 07601 11600 001024671909
BIC: BPPIITRRXXX

We are unable to refund this deposit in the event of cancellation.

In case of early departure, the entire booking period will be charged.
Payment
Please settle the bill in cash the evening or the morning before you leave. We accept payment by cash card, credit card (VISA, MasterCard, EuroCard) and by cash. Please note that the cash limit in Italy amounts to max. 2,999 €.
Arrival and departure
The apartments are available for you to occupy from xx pm. Please inform us in case you are checking in later. We request that you vacate your apartment by xx am on your day of departure.
We pick you up for free from the train station or the nearest bus station.
Cancellation:
According to the Italian Consumer Protection Code, there is no right of withdrawal. However, we grant you the right to withdraw:
If you cancel your stay up to 3 months before you were due to arrive, there will be no charge for the cancellation, yet we will keep the deposit. Up to 3 months to 4 weeks before the start of your stay, we charge 3 days from the travel price; up to 4 weeks before the start of your stay the charge will be 70%.
So please inform us in advance if you are unable to take your holiday.
Travel cancellation insurance
We are looking forward to your visit. However, it may happen that you cannot take your holiday and have to cancel it at short notice. In order to prevent you and from unnecessary fees, we recommend you to take out a travel cancellation insurance.
This way, cancellation fees are covered and you can happily look forward to your vacation.
For further information on travel cancellation insurances read here >
Exclusion of liability
We strive to provide accurate and complete information on this website. However, we assume no liability or guarantee for the topicality, correctness and completeness of the information provided. All offers are non-binding and without obligation. We reserve the right to change, complement and delete the pages or parts of it, the whole offer without notice or to stop its publication occasionally or forever. Only the specific service offer or the booking confirmation is binding. For external links we can – despite careful control – assume no liability. For the content of linked pages exclusively their operators are responsible.